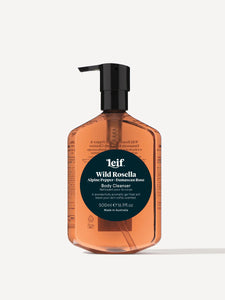 Leif Wild Rosella Body Cleanser - 500ml
Leif
Regular price $27.00 Sale
Native Australian botanical oils lather up to cleanse and refresh the skin. Our own off-kilter hibiscus, the Wild Rosella is rich in antioxidants. Alpine Pepper and Damascan Rose add depth and complexity.
Scent: Floral & Sweet 
Botanicals: 
Wild Rosella – an Australian hibiscus rich in antioxidants, it nourishes and regenerates the skin.

Alpine Pepper – an aromatic Australian spice that stimulates the senses and boosts circulation.

Damascan Rose – antibacterial and anti-inflammatory properties combine with a rich floral scent to soothe and calm the skin.

For Cleansing - Cocamidopropyl Betaine – A surfactant sourced from coconut oil that gently washes away unwanted oils and dirt, conditioning and softening the skin.