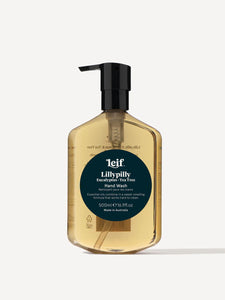 Leif Lillypilly Hand Wash - 500ml
Leif
Regular price $27.00 Sale
Essential oils with antibacterial properties combine in the original sweet-smelling formula. Super-fruit Lillypilly packs a potent punch rich in Vitamin C and antioxidants, while the menthol hit of Eucalyptus and Tea Tree is tempered by Peru Balsam.
Lillypilly Extract - rich in Vitamin C and antioxidants, with fruit acids that gently exfoliate.           
Eucalyptus Oil - with antibacterial and antiviral properties, it revives, refreshes, and purifies.         
Tree Oil - a natural antiseptic that cleanses, disinfects, and purifies to stimulate tired skin.                                               
For Cleansing - Cocamidopropyl Betaine – a surfactant sourced from coconut oil that gently washes away unwanted oils and dirt, conditioning and softening the skin.