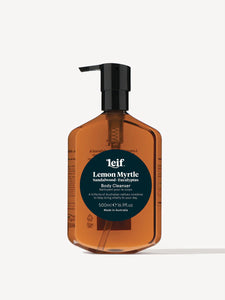 Leif Lemon Myrtle Body Cleanser - 500ml
Leif
Regular price $27.00 Sale
A trifecta of powerful botanicals bring vitality to your day. Containing the world's highest source of citral, Lemon Myrtle gives this body wash antibacterial benefits. Sandalwood and Eucalyptus add depth to the citrus scent.
Scent: Warm & Healing 
Botanicals: 
Lemon Myrtle Oil – wonderfully relaxing and uplifting, it has strong antibacterial and anti-fungal functions. 
Sandalwood Oil – a warming scent which soothes stress and nervous tension. 
Eucalyptus Oil – with antibacterial and antiviral properties, it revives, refreshes, and purifies.

For Cleansing: Cocamidopropyl Betaine – a surfactant sourced from coconut oil that gently washes away unwanted oils and dirt, conditioning and softening the skin.