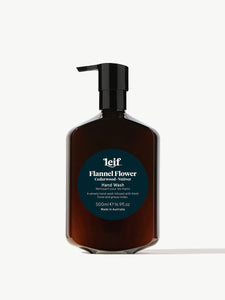 Leif Flannel Flower Hand Wash - 500ml
Leif
Regular price $27.00 Sale
This pretty East Coast native is the hero of our latest formula for hand. It delivers a scent that is fresh and green bringing to mind just-cut stems.
Scent: Floral & Grassy 
Botanicals: 
Flannel Flower – Assists with skin recovery and is a potent source of antioxidants. 
Cedarwood – Offers clarity with a grounding aroma that's slightly sweet and woody. 
Vetiver – An exotic aroma offering calming benefits with floral-green undertones.

For Cleansing: Cocamidopropyl Betaine – a surfactant sourced from coconut oil that gently washes away unwanted oils and dirt, conditioning and softening the skin.
Made in Australia. 100% vegan and cruelty-free.