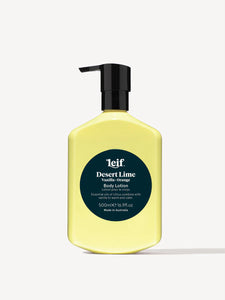 Leif Desert Lime Body Lotion - 500ml
Leif
Regular price $45.00 Sale
Stimulate the senses with this hydrating moisturiser formulated with unique native citrus fruit Desert Lime, high in Vitamin C. Nutrient-rich Sweet Almond Oil ensures easy absorption into the skin, while Sweet Orange Oil and Vanilla leaves it softly scented.
Scent: Citrus & Sunny 
Botanicals: 
Desert Lime – a native citrus high in Vitamin C and antioxidants, which stimulates and revitalises the skin. 
Sweet Orange Oil – a bright citrus scent known for its uplifting properties. 
Vanilla – anti-inflammatory properties soothe the skin and a familiar scent calms the mind.

For Moisture - Sweet Almond Oil – high in nutrients, it quickly lubricates and absorbs into the skin to preserve moisture balance. Aloe Vera and Glycerine – binds and retains moisture to ensure hydration and prevent dryness. Cetearyl Alcohol – derived from coconut oils and fats, it locks in moisture to leave skin soft and supple.