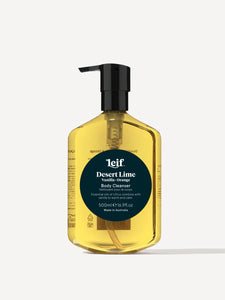 Leif Desert Lime Body Cleaner - 500ml
Leif
Regular price $27.00 Sale
A bright body wash that uplifts and enlivens. Native citrus fruit Desert Lime is high in Vitamin C, working alongside Sweet Orange Oil and Vanilla to leave a subtle and sweet scent on the skin.
Scent: Citrus & Sunny 
Botanicals: 
Desert Lime – a native citrus high in Vitamin C and antioxidants, which stimulates and revitalises the skin. 
Sweet Orange Oil – a bright citrus scent known for its uplifting properties. 
Vanilla – anti-inflammatory properties soothe the skin and a familiar scent calms the mind.

For Cleansing - Cocamidopropyl Betaine – A surfactant sourced from coconut oil that gently washes away unwanted oils and dirt, conditioning and softening the skin.