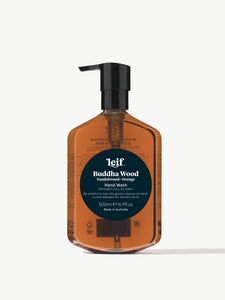 Leif Buddah Wood Hand Wash - 500ml
Leif
Regular price $27.00 Sale
Deeply aromatic Buddah Wood captures the earthy aroma of the outback. This meditative blend of good oils has become one of our most popular scents and includes Sandalwood to help keep you centred. Sweet Orange adds softness to the base.
Scent: Smoky & Meditative 
Botanicals: 
Buddha Wood Oil – a distinctively woody scent which does wonders due to its calming, grounding effect. 
Sandalwood Oil – a warming scent which soothes stress and nervous tension. 
Sweet Orange Oil – a bright citrus scent known for its uplifting properties. 
Cedarwood Oil– a natural antiseptic that elevates the mood and warms the skin, supporting overall skin health.

For Cleansing -  Cocamidopropyl Betaine – a surfactant sourced from coconut oil that gently washes away unwanted oils and dirt, conditioning and softening the skin.