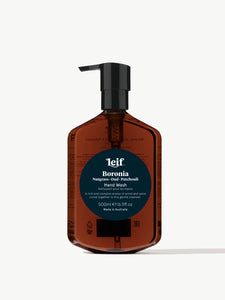 Leif Boronia Hand Wash - 500ml
Leif
Regular price $27.00 Sale
Boronia absolutely is the hero of a latest scent which has a rich and complex aroma. This native blooms for just a couple of weeks each winter, a floral sensation that adds depth to a base of wood and spice.
Scent: Wood & Spice 
Botanicals: 
Boronia – high in antioxidant and anti-inflammatory properties, Boronia helps to prevent skin damage and works as a natural sleep aid. 
Nutgrass – a multi-use elixir, Nutgrass comforts and calms dry skin with its high Vitamin E content.
 Oud – a seductive and earthy aroma that instils a deep sense of peace and spiritual calm.
Patchouli – a bushy, aromatic herb from the mint family which helps to relieve skin imperfections.

For Cleansing- Cocamidopropyl Betaine – a surfactant sourced from coconut oil that gently washes away unwanted oils and dirt, conditioning and softening the skin.